Find Venues
ASPAM
( Aomori Prefecture Tourist Center )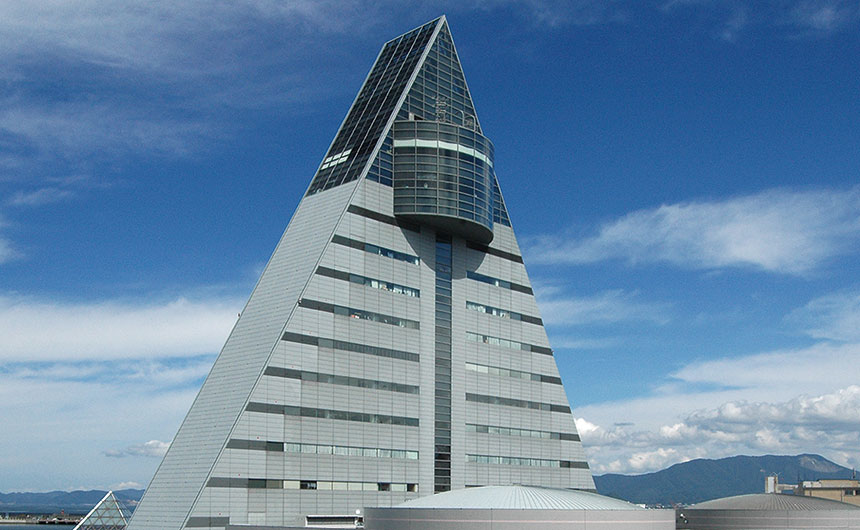 Access
8-minute walk from JR Aomori Station
10 minutes by taxi from JR Shin-Aomori Station
40 minutes by taxi from Aomori Airport
20 minutes by car from Aomori Chuo Interchange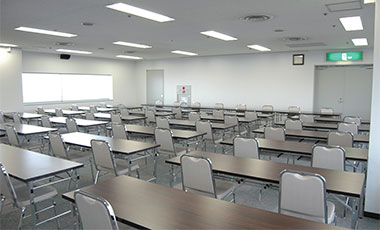 The 15-story, 76-meter-high equilateral triangular building of ASPAM was designed to resemble the first letter "A" of "Aomori." In addition to one of the prefecture' s largest shops selling its specialties, a panoramic movie theater, and an observatory, the tourist center boasts a full array of facilities, including a restaurant with a panoramic view and one that offers local cuisine.
Events held at the facilities in the past
May 15, 2010

242nd Tohoku Regional Meeting of the Japanese Urological Association (185 persons)
September 26, 2011 July 4-5, 2012

The 25th Convention of Japan Older Persons in Aomori (408 persons) FY2012 Tohoku Branch Meeting of the Japanese Society of Soil Science and Plant Nutrition
October 26, 2012

Meeting of the Board of Directors for the 65th National Meeting of the Japan Society for Information and Management (21 persons)
June 14-15, 2013

Aomori Session of the 40th National Meeting on Medical Research (100 persons)
August 30-31, 2013

97th Tohoku Regional Meeting of the Japanese Respiratory Society (155 persons)
September 1, 2013

3rd Annual Conference of the Japan Primary Care Association Sessions of the Academic Meeting of the Tohoku Chapter (320 persons)
September 14, 2013

166th Tohoku Meeting of Surgeons
September 14, 2013

92nd Tohoku Regional Meeting of the Japanese Association for Thoracic Surgery
September 14, 2013

81st Tohoku Regional Meeting of the Japanese Society of Pediatric Surgeons
September 14, 2013

Tohoku Regional Meeting of the Japanese Society for Vascular Surgery
Support for convention organizers
Application start date

Six months prior to the day of use, on the first day of the month
Available for use

9:00 a.m. to 9:00 p.m.
Closed

December 31

Monday to Wednesday in the fourth week of January
Application method

By phone or fax
Conference room name
Area(m²)
Capacity
Use fee
Remarks
School arrangement(three persons per desk)
School arrangement(two persons per desk)
Event Hall, 1F
300m²
-
-
108,000yen
Event space
Aoi Mori Hall, 2F
300m²
-
-
* Consultation required
Event space
Towada, 4F
190m²
144
96
34,560yen
Oirase, 4F
150m²
108
72
23,900yen
Asunaro, 5F
195m²
156
104
35,590yen
Hakucho, 5F
145m²
96
64
23,900yen
Natsudomari, 5F
30m²
18
12
8,230yen
Hakkoda, 6F
168m²
120
80
24,950yen
Iwaki, 6F
120m²
72
48
21,600yen
Hamanasu, 7F
40m²
24
16
11,330yen
Shirakami, 8F
120m²
60
40
21,600yen
Tsugaru, 9F
104m²
60
40
19,540yen
Nambu, 9F
80m²
48
32
17,490yen
* fees for use from 9:00 a.m. to 5:00 p.m.
| | |
| --- | --- |
| Incidental facilities | Restaurants: Lounge Century at ASPAM (1F), Local cuisine Michinoku Restaurant Nishimura (10F), and Dining Café Hanaaf (14F) |
| equipment | Acoustic systems, screens, projectors, hanging signboards, etc. |
Equipment for persons with physical disabilities

Toilets with handrails, elevators
Parking lot

150 passenger cars and 12 buses
Parking fees

220 yen for the first one hour plus 110 yen for each additional 30 minutes
Parking time

Open 24 hours a day (9:00 a.m. to 6:00 p.m. for buses)
Arrangements for receptions

Restaurants on 10F and 14F provide catering services.
1-40, Yasukata 1-chome, Aomori-shi 030-0803
Phone:017-735-5311 Fax:017-735-2067