Discover Aomori
Synonymous with Aomori


Aomori Nebuta Festival: A Japanese Fire Festival
Origin of Nebuta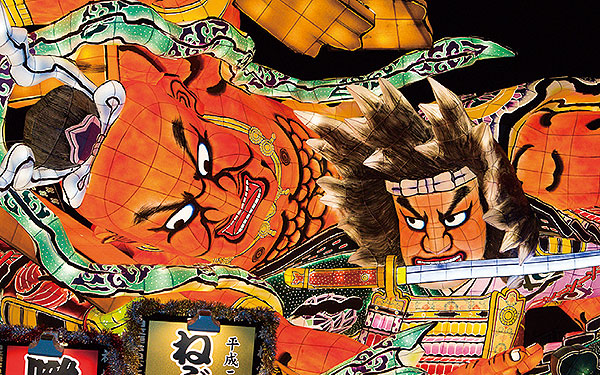 The echo of drums, the sound of Japanese flutes, the light of Nebuta floats in the dark night and waves of people. All of these dominate Aomori's summer nights.
It is said that the Tanabata Festival brought from China during the Nara Period and various customs originating in Aomori many years ago came together with rituals sending off the spirits of the dead and became the Nebuta Festival. Floats were made years later and it is believed that this is the original form of Nebuta.
Summer! Nebuta!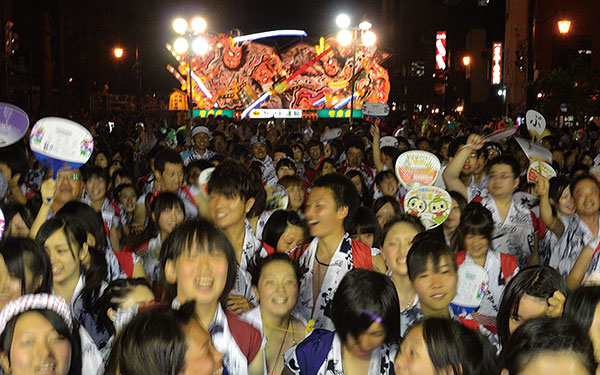 This colourful, energetic festival is an integral part of summer in Aomori. Nebuta ― large floats with frames covered with painted Japanese paper ― are five meters high, nine meters wide and seven meters deep. Hayashi music is made up of drums, flutes, and hand cymbals, and Haneto (dancers) excitedly dance around the floats. The Nebuta festival is one of Japan's leading fire festivals, combining the floats, music, and dancing in an energetic display which engages spectators. The festival became a celebration of triumphant return from war, which can be seen in the energy of the participants.
The Aomori Nebuta Festival is held from August 2nd to 7th every year and attracts over 2 million people. More than 20 large Nebuta floats parade every night from August 2nd to 6th and during the day on August 7th, the final day of the festival. In addition, the six floats that win prizes will float in Aomori Port on the evening of August 7th, with 10,000 spectacular fireworks lighting up the night sky in the background. Anyone in full costume can participate in the festival.
Throughout the year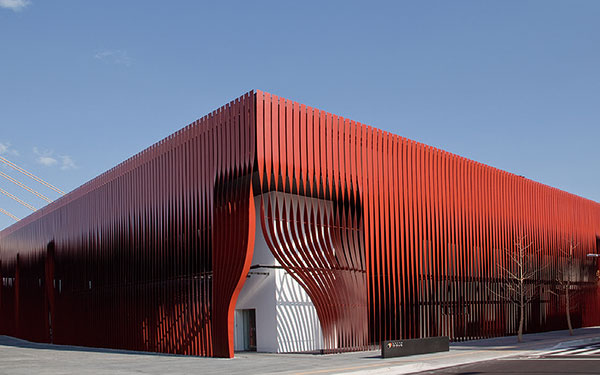 Don't worry if you can't make it to Aomori for the Nebuta festival in August; you can witness the Nebuta experience at Aomori's Wa Rasse Museum year-round! There are displays of large Nebuta floats which paraded in the festival, as well as dynamic footage. You can also try Haneto dancing for yourself in the Museum.
You will see that the Nebuta experience is not limited to summer.
Very popular mountain skiing in winter!

But you can enjoy

Hakkoda Mountains

in all four seasons.
The Hakkoda Mountains are comprised of 10 mountains, such as Odake (with the highest peak reaching 1,585 meters), Takada-Odake, Ido-dake, Akakura-dake, Mae-dake, Tamoyachi-dake etc. You can also see these beautiful mountains from Aomori Plain and Tsugaru Plain.
Spring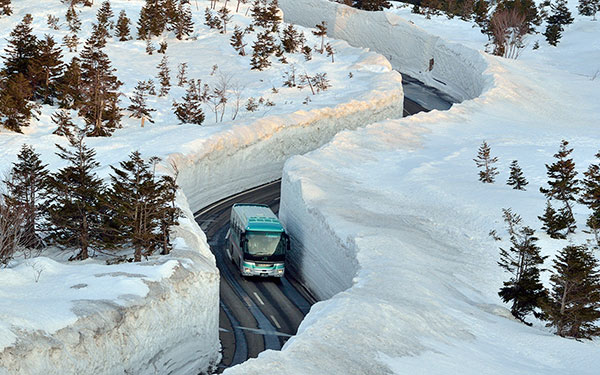 The majestic snow corridor is a road with a snow wall nine meters high on both sides and which runs for eight kilometers.
This Hakkoda-Towada Gold line, which is closed during the winter, reopens on April 1 every year. The reopening of the snow corridor heralds the arrival of spring in Hakkoda.
Summer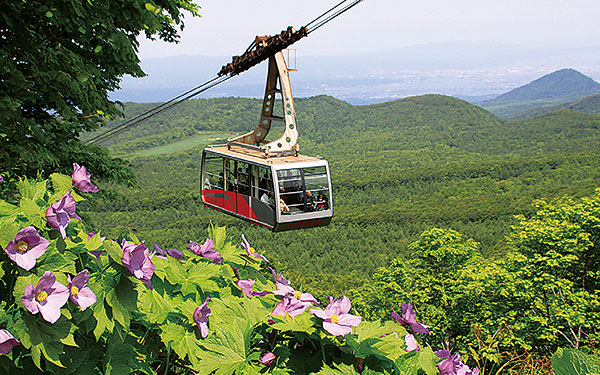 Even in summer, you will be met with a blast of cool air when you exit the ropeway at the summit. From June to August, seasonal alpine plants bloom in quick succession; a pleasure to behold.
Using the ropeway, you can enjoy a leisurely half-day mountain climb or one-hour trekking session.
Autumn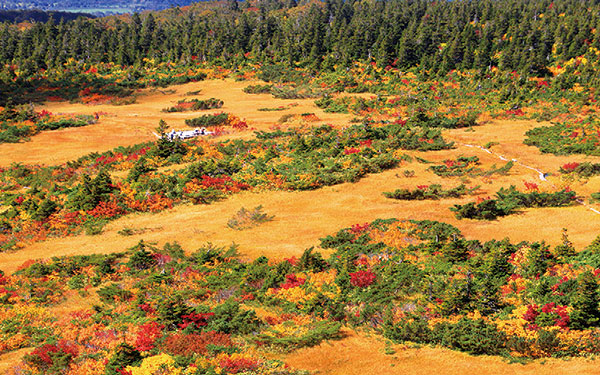 The natural splendor of the Hakkoda Mountains changes as do the autumn leaves. You will find yourself awed by the array of dazzling yellows and fiery reds; vibrant colours which last right up until the leaves begin to fall. These beautiful autumn colours can be seen all over the Hakkoda Mountains, from mid-September to late October.
Winter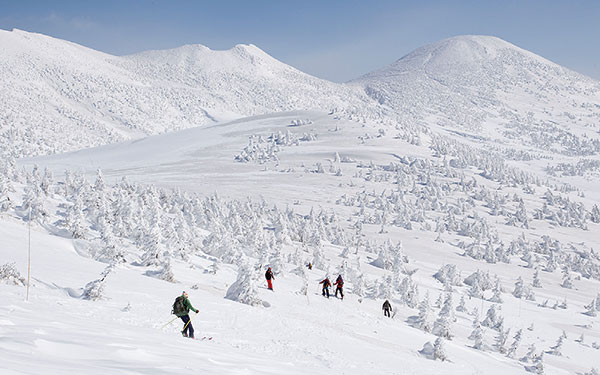 In the Hakkoda Mountains, the first snow can arrive as early as the end of October. You can enjoy winter sports from late November until mid-May. Skiers and snowboarders from all over the world flock to these beautiful mountains, with the high-quality powder snow and "snow monsters" (created by soft rime that forms on trees) of the slopes unparalleled worldwide.
Aomori apples
― the best tasting and most plentiful in Japan!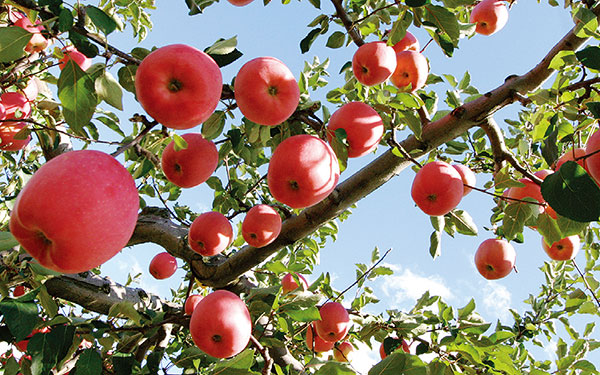 These glossy apples are bursting with flavourful juice. Red, yellow, and green apples each have their own flavour, but they are all perfectly balanced between sweetness and acidity in mouthwatering combinations which have made Aomori's apples world-famous. Aomori is the best apple-producer in Japan, and you can enjoy fresh Aomori apples from August to November.
Of course, you could simply buy apples from the shop and eat them. But you can also try harvesting them for yourself at apple orchards and observing the packaging and shipping processes. You can enjoy making your own "apple memories" unique to Aomori.
Apple-Picking experience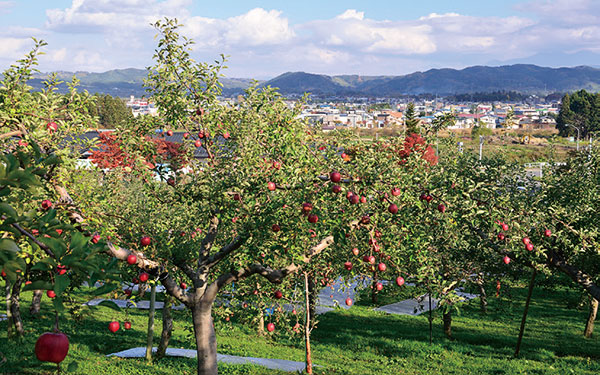 Approximately 20 minutes by car from the city center, heading towards Tashirotai. Apple trees heavy with ripe apples await harvesting on this expansive site. It's a great opportunity for you to learn how to select tasty apples and how to pick them! Apples you pick yourself will taste special.
Observing the apple sorting process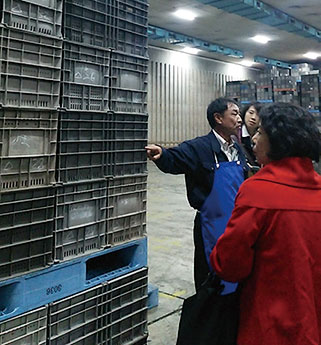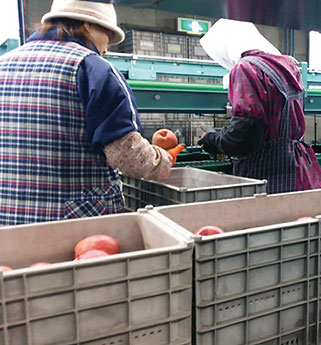 You can observe apples being sorted for packing and shipping with an expert guide.
There are more than 50 varieties of apple. Freshly harvested apples are graded according to the size and color. A sensor measures the apples' sugar content. The final check is a visual one carried out by the workers. This is an informative tour of skills by both machines and human experts.
【 Aomori Agricultural Cooperatives, Apple Sale Department 】
Address

54, Gorin, Kitanakano, Namioka, Aomori-shi
Phone

0172-69-1113