Tours of Aomori City and surrounding areas
Aomori City and surrounding areas
Experience the magnificent view of the Hakkoda mountains and the traditions of Tsugaru
One-day tour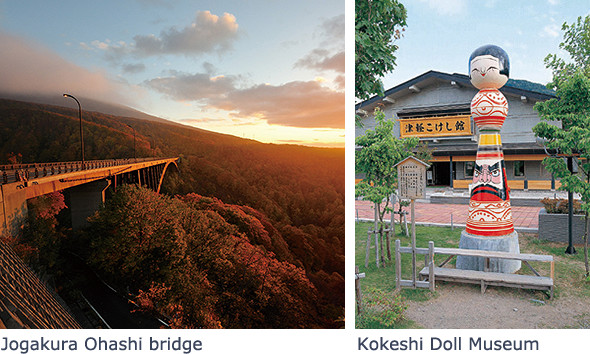 Hakkoda
Fresh greenery & summer season: from mid-May to mid-August
Autumn leaf season: from late September to late October
Winter season: from early November to late April
After enjoying the magnificent view of the Hakkoda mountains from the ropeway, the tour goes to Jogakura Ohashi, the largest arched bridge in Japan with a pedestrian walkway. From the bridge, which stretches over the Jogakura Valley, visitors can enjoy the wonderful view of Towada Hachimantai National Park. After thoroughly enjoying the magnificent scenery, why not try your hand at traditional crafts? The tour visits the Tsugaru Traditional Art and Craft Store in Kuroishi and the adjacent Kokeshi Doll Museum where you can try decorating kokeshi dolls, goldfish lanterns amongst other items and making Tsugaru-nuri lacquerware.

Experience a mix of Japanese and western influences at Hirosaki: Apple garden and traditional experience tour
Two days and one night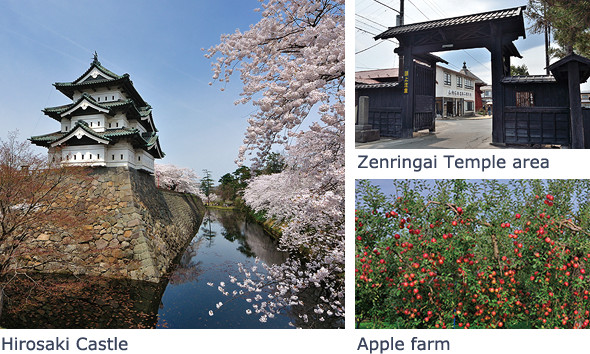 Hirosaki
Cherry blossom season: from late April to early May
Hirosaki is a retro-modern town. After walking down Zenringai, a street lined with 33 zen temples, enjoy the atmosphere of the castle town around Hirosaki Castle, which is scattered with western mansions and gardens. Inside Fujita Memorial Japanese Garden, built in the Taisho era, visitors will find a western mansion which is a registered cultural property. Seibien in Hirakawa City, a designated national area, is one of the three most beautiful gardens of the Meiji era. In the apple season visitors can also enjoy picking apples.

The wonderful Oku Tsugaru / Shirakami Sanchi tour
Two days and one night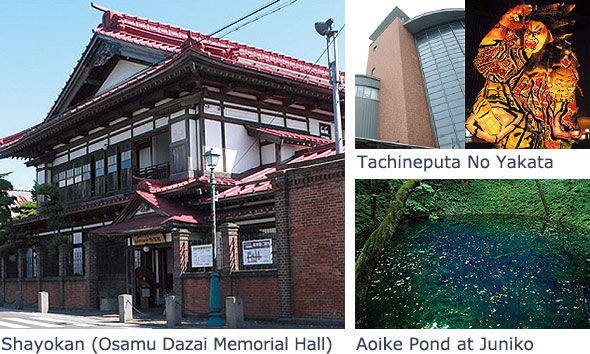 Shirakami Sanchi
Best season: from June to October
See the dramatic and gigantic floats, over 20m tall, at Tachineputa No Yakata (Tachineputa Museum). Then hop aboard the charming, old-timey Tsugaru Railway heading to Kanaki. Visit Shayokan, the house where novelist Osamu Dazai was born, to see Meiji-era wooden architecture which has been designated as an important cultural property, as well as Dazai's early manuscripts. At Juniko ("Twelve Lakes") in Shirakami Sanchi, visit the beautiful and mystic emerald-green Aoike Pond and amazingly clear Wakitsubo Pond.

Touring Tappizaki Cape & the legend of Tosaminato, a dreamlike medieval town
Two days and one night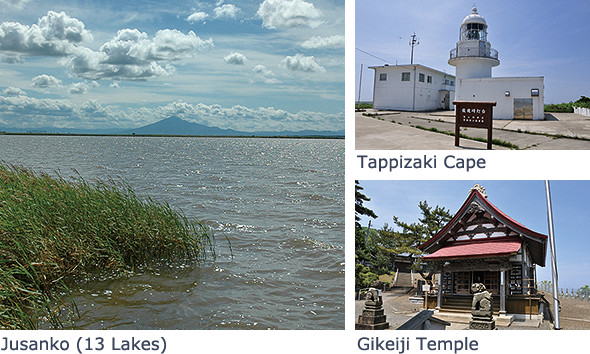 Visit seaside spots with magnificent views, including "Pine tree road" that stretches approximately 1km along the coast, the famous Takanosaki Cape with its gigantic and strangely shaped rocks, and the Tappizaki Lighthouse, which has been selected as one of the 50 best lighthouses in Japan.
Visiting medieval sites such as the remains of Fukushima Castle and Hiyoshi Shinto Shrine, one will be taken back to the past, where Tosaminato was a major city almost equal to Heian-kyo which is now called Kyoto. Stop also at "Michi-no-Eki (Roadside rest area)" Imabetsu, adjacent to the new Okutsugaru-Imabetu station that lies on the new Hokkaido Shinkansen line.

Natural splendour of Hakkoda / Oirase / Lake Towada Tour
Two days and one night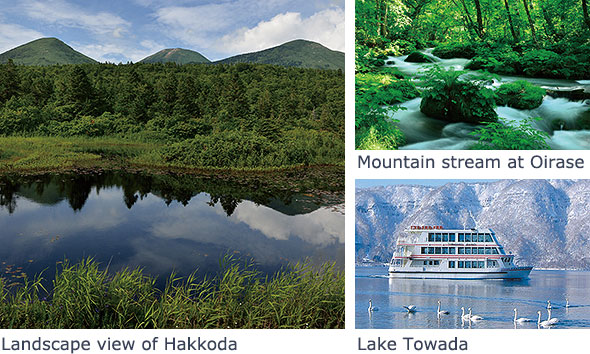 Oirase
Fresh greenery & summer season: from mid-May to early September
Autumn leaf season: from mid-October to early November
Winter season: from late November to late March
After enjoying the natural beauty of Sukayu Hot Spring in Hakkoda, stroll along the pure mountain stream of Oirase. From the cruise ship on Lake Towada, visitors can see the famous Otome no Zo statue of two women and enjoy the wonderful view of the lake. At Misawa Aviation & Science Museum, Aomori, visitors can enjoy flight simulation. Visitors can also see 12,000 pieces of work by poet and playwright Shuji Terayama at Shuji Terayama Museum.

Shimokita Peninsula, the land of faith, and mystic landscape tour
Two days and one night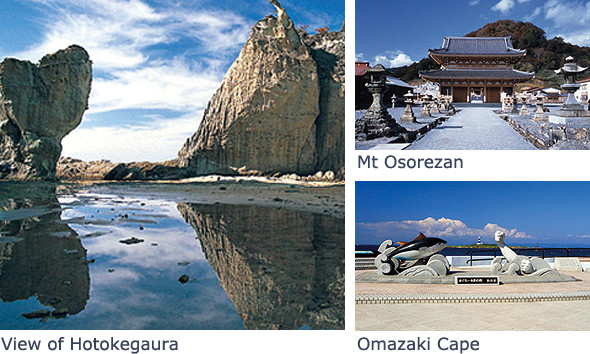 At Osorezan, one of the three largest holy sites in Japan, see the mystic emerald green Lake Usori, and bleak rocky grounds associated with the images of hell. Visitors can enjoy a variety of majestic views including the idyllic landscape of Shiriyazaki Cape where Kandachime horses stand with a lighthouse in the background, and the dramatic array of giant and strangely shaped rocks formed by nature in Hotokegaura.

Tanesashi Coast, Hachinohe and modern art tour

―Sanriku Fukko National Park― (Michinoku Shiokaze Trail)
Two days and one night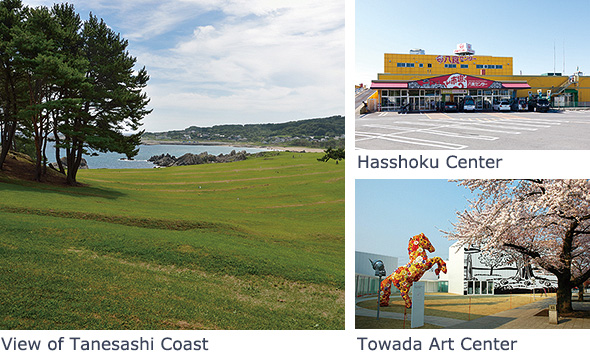 Tanesashi Coast
Main season: from mid-May to October
Towada Art Center is popular for its unique modern art pieces. These pieces, along with the architecture and surrounding streets form an artistic space. Tanesashi Coast, which is part of Sanriku Fukko National Park, has a vast span of natural grass, with a wide variety of seasonal flora and fauna.
Visitors can also tour local sake breweries and the Hasshoku Center, a local food market, to satisfy both appetite and soul.

Tour of three famous hot springs:
Sennin Buro (Thousand-Man Bath) in Sukayu, the bath hidden in a beech forest in Tsuta, and Lamp-no-yado in Aoni Onsen
Two days and one night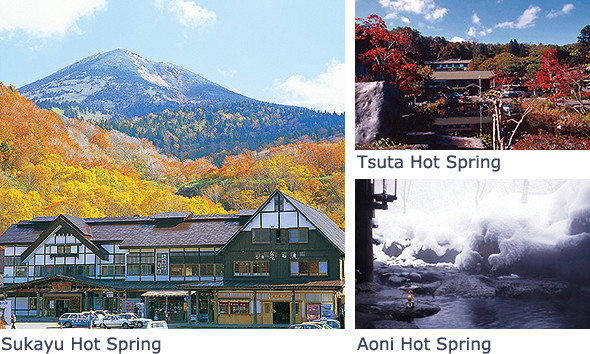 On this tour, visitors can enjoy the famous atmospheric hot springs of Aomori to their hearts' content. Sukayu Hot Spring entrances hot spring-lovers with its mineral-rich water filling the famous "Sennin Buro", a 260 square-meter bath tub made entirely of Japanese cypress. Tsuta Hot Spring, a hot spring visited by the poet and writer Keigetsu Omachi in the Meiji and Taisho period, boasts a beautiful building made with Japanese cypress and horse-chestnut trees.
Meanwhile Aoni Hot Spring, known also as "Lamp Inn" because of its old-timey lanterns, is an isolated hotel alongside a mountain stream. Experience the magical atmosphere of this area, cut off from electricity.

【Inquiries】 Sightseeing Section, Commercial Division, Aomori City
Phone

017-734-5175
Fax

017-734-5188